The paint on your metal roll-up doors and metal buildings is baked on and will last for years but sun and salt air will erode the finish and dull the color. Painted metal can also chalk unless protected.
Paint that is not baked onto metal will oxidize faster, and may crack, peel, blister, chip and ruin your doors. Unless it is absolutely necessary to paint, it is much better to refinish you baked-on finish. If your doors are already repainted, you can now seal them with Everbrite Protective Coating preventing moisture and sun damage.
What causes paint failures?
The inability to bake on the paint in the field, improper preparation, moisture penetrating through paint to separate the new paint from the baked on substrate and various other reasons.
But I know of paint jobs that haven't peeled or cracked.The main reason for painting is to try and improve the image of the facility. Since repainted surfaces will chalk and fade even faster, to keep the facility looking new, the surfaces will need to be repainted again. Paint over paint over paint will peel and crack. Moisture will penetrate paint, separating the layers and eventually cause paint failure.
This is an industry wide problem and we all know people who have repainted metal, only to have the paint peel or fade even faster and have cost themselves many thousands of dollars.
Sadly, the money spent on painting to improve the image of their facility actually added to the problems and subtracted from the bottom line.
Here are some pictures of Paint Problems.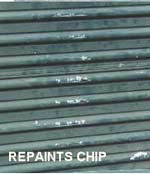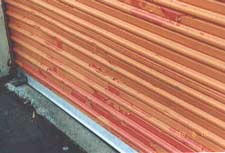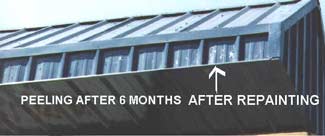 Pacific Pride is an experienced metal restoration contractor. Contractors License # 700510. We are insured,bonded and all of our workers are covered by Workers Compensation Insurance. Call us Toll-Free at 800-304-0566.
For more information about Everbrite Coatings go to www.EverbriteCoatings.com.