We are really impressed with Everbrite, it's like having new doors without the expense of new doors.The service and follow-up have been impeccable" Scott Harden, President - National Self Storage, Inc.
"Everbrite worked beyond our expectations, truly an unbelievable process to rejuvenate oxidized doors to the original glossy finish. Our customers thought we removed their storage doors and replaced them with new ones." Andy Kelly, Executive Vice President National Self Storage, Inc.
"Everbrite makes a door look brand new. Great stuff." John Brick, U-Haul Corporation

Before & After - Brown,11 year old doors refinished with Everbrite in Roseville, CA. (Not Repainted)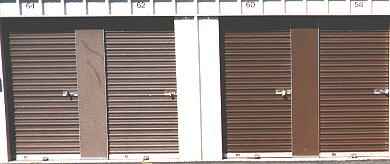 "Pacific Pride refinished all of our exterior roll-up doors at Western Self Storage. The doors were 11 years old, had never been repainted and were in pretty bad shape...The doors turned out beautiful, they look brand new. Some of our customers even thought they had been replaced with new doors. The people at Pacific Pride were great and we would recommend them again." Iris Ridenour Roseville, CA * Storage USA bought Western S.S.
"We just wanted you to know what a terrific job your firm did on our storage unit doors. Just as you promised, they look like new and the price was fair. On the first day, we had three customers come in and comment on how good they looked and how the whole place looked better because of them. The positive remarks have continued since the day they were done...We discovered right away that everything can now be easily cleaned off by rinsing, which had been impossible before. In addition, there has been a noticeable drop in temperature in the units when they are receiving sunlight and customers appreciate that too."
Vern Mierkey, Manager Shale Ridge Self Storage

Orange Doors, Orangevale, CA
Call us Toll-Free (800) 304-0566